Sweet Sue whole canned chicken.
PEOPLE living in urban areas live extremely fast-paced lives and need products that make their daily activities easier.
But most people never thought canned chicken would be one of these products.
Items such as canned foods cut the work in half because you don't have to do much cooking, allowing you more time to relax.
READ: SPICY FOOD CAN 'REDUCE YOUR RISK OF EARLY DEATH'
A photo of canned chicken surfaced on Mzansi Twitter yesterday and many people were not having any of it.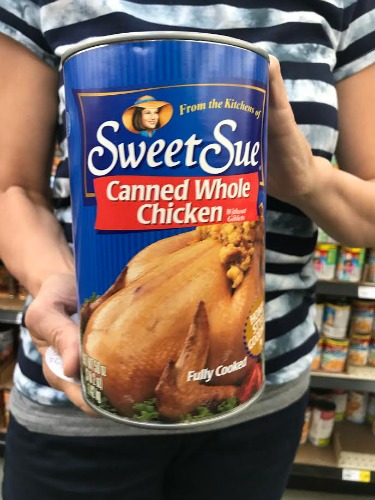 "I'll concede that I've never thought about what canned chicken looks like, but I swear I never would have thought it would look like this," Malume tweeted.
This came after Thulani Dlamini asked people: "What do you consider evidence that the USA isn't a real place?"
The whole canned chicken is by Sweet Sue.
ALSO READ: MUM MAKES OVER R300K SELLING HER BREAST MILK
Many people said they would pass on it because it does not look appetising at all.
The product is available for purchase on Amazon and eBay, and comes with preparation instructions on the back.